Downton Abbey Tea
You are cordially invited to our annual Downton Abbey Tea on May 13th at 2:00 PM here at the Goodrich Library. Charlie Nardozzi, our guest of honor, will be with us to give a presentation on "The Castles and Gardens of England." Delicious teas and sweets will be offered to all in attendance. This event is free and open to the public, but you need to call us at 334-7902 or drop by the library to sign up. This will allow us to know how many guests to prepare for.
First Wednesday's Program
Join us on the first Wednesday of the month for our Humanities Lecture Series. For more information visit vermonthumanities.org.
First Wednesdays is supported in part by the National Life Group Foundation and the Institute of Museum & Library Services through the Vermont Department of Libraries.
John Quincy Adams: A Spirit Unconquerable
May 3rd 7:00 PM
Ralph Waldo Emerson once said that John Quincy Adams "took his tea with sulfuric acid." Perhaps he did, but he also wrote poetry, loved theater, opera, and good wine and company; he held informed views on a myriad of subjects. Actor Jim Cooke portrays Adams in the last decade of a remarkable life as he sits for his final portrait. Learn of his part in the creation of the Smithsonian Institute, his defense of the Amistad before the Supreme Court, his dedication of America's first astronomical observatory, and his long fight against the slave-master's Gag Rule in Congress.
About the presenter: Jim Cooke is an actor and historian whose performances have been featured at the Smithsoniam, the Library of Congress, and at numerous presidential libraries.
This is a free event open to the public.
Monthly Book Club
We meet the 3rd Thursday of the month at 1:00 PM. Copies of each book are available at the library.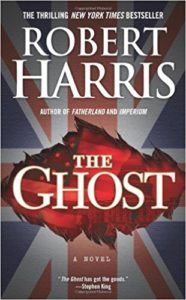 May 18, 2017: The Ghost by Robert Harris
Summary: The role of a ghostwriter is to make his client look good, not to uncover the truth. But what happens when the client is a major political figure, and the truth could change the course of history? Adam Lang, the controversial former prime minister of Britain, is writing his memoirs. But his first ghostwriter dies under shocking circumstances, and his replacement, whose experience lies in portraying aging rock stars and film idols, knows little about Lang's inner circle. Flown to join Lang in a secure house on the remote shores of Martha's Vineyard in the depths of winter, cut off from everyone and everything he knows, he comes to realize he should never have taken the job.
It's not just his predecessor's mysterious death that haunts him, but Adam Lang himself. Deep in Lang's past are buried shocking secrets . . . secrets with the power to alter world politics . . . secrets with the power to kill.
Chess Club
Wanna Play Chess? The Goodrich Memorial Library is proud to sponsor Chess Club with instructor John Ward. This program is open to anyone ages 10 and up. Mr. Ward provides chess lessons to those who want it including visual aids for all skill levels. If you're already well-versed in the game of chess, this is a great opportunity to meet and compete with other local chess lovers!
The Chess Club meets every Thursday from 3:30 PM to 4:30 PM. Chess boards are provided by the library.
Calendar of Events